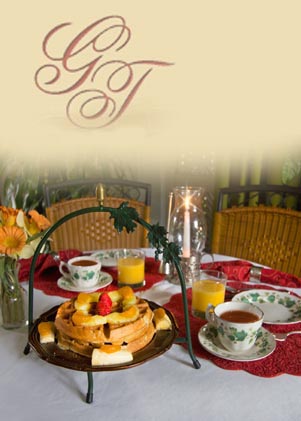 photo by Karen Jorstad




---
"Privacy with a very romantic candlelit breakfast on our own screened in back porch while watching the hummingbirds. FANTASTIC!"


---

"We've traveled to lots of B&B's before, and what makes this one special is that you get breakfast IN YOUR ROOM in the morning. No rushing to get ready to make it to the dining room on time, no forced conversation with fellow travelers if you just don't feel like it. Breakfast was always
yummy and filling.!"

Enjoy a romantic breakfast in your room or on your private porch!
Breakfast is a private affair.
You don't have to be dressed for the day when we serve breakfast (we provide robes.) If you're not a morning person, that's O.K. We won't ask you any questions (but we'll be happy to answer any of yours.) We give you a choice of two times for breakfast each day...one for early birds and one for those who prefer a few extra winks. Enjoy being pampered with a private, candlelit breakfast each morning.