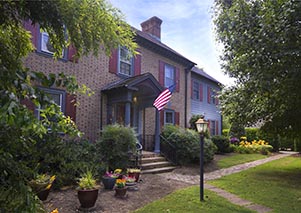 photo by Karen Jorstad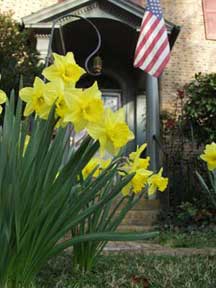 Across this threshold pass
some of the nicest people
in the world.


---
"Your attention to detail does not go unnoticed. Your breakfasts and coffee were out of this world! We can't wait to return."


---

"We've stayed in over a dozen B & Bs, and Governor's Trace was definitely on top for hospitality, comfort, and ambience!"


The house, designated historically significant by the City of Williamsburg in 1993, was built during the time John D. Rockefeller, Jr., was restoring Colonial Williamsburg to this country's finest historic living museum. In fact, several of Mr. Rockefeller's selected craftsmen "moonlighted" on the construction of our Georgian style brick house.

Governor's Trace bed and breakfast sits on over a half acre and fronts one of the most historic roads of commerce in Williamsburg, VA. During the colonial period, seamen and merchants traveled up and down Capitol Landing Road to collect and ship goods to and from England at Queen's Creek about a mile from Governor's Trace. A tannery stood near by as well as pug mills (two of which were just uncovered in 2009) next door at Capitol Landing Green.

Thirteen of Blackbeard's pirates were hanged on the "Hangmen's Tree" just a short way down the road from Governor's Trace bed and breakfast.

Revolutionary and civil war artifacts have been found in our front yard and in Colonial Williamsburg property directly across the street. Almost any direction you throw a rock and where it lands, if you dig deep enough you are most likely to find a relic of colonial times….most especially along Capitol Landing Road that reached from England and the Monarch to the Heart of Colonial Williamsburg where freedom demanded to be heard.

The innkeepers of Governor's Trace B&B, Sue and Dick, have made it the Touchstone for romantic getaways. Every morning begins with a candlelight breakfast served in the privacy of your room. Each bedroom has a comfortable sitting area and a breakfast area and either a king or queen size bed. Governor's Trace "vies for the most romantic (B&B in Williamsburg)"….WASHINGTON POST.

CONTACT US: govtrace@cavtel.net or by phone at 800-303-7552 or 757-229-7552.

RATES/RESERVATIONS: book us now.